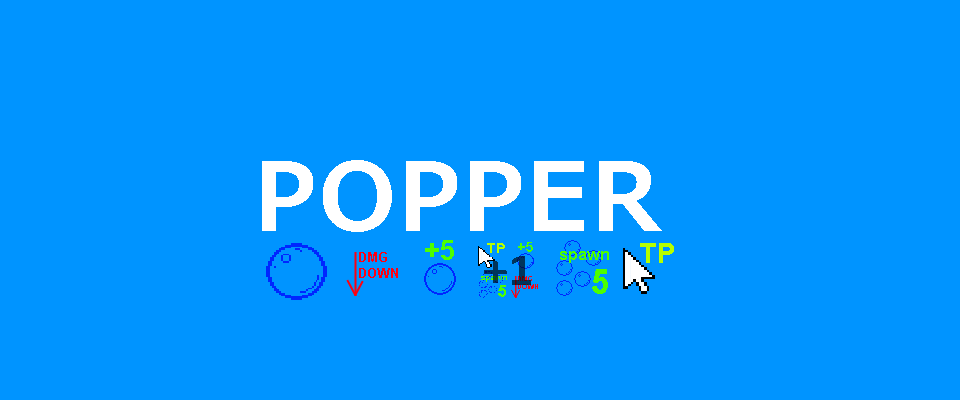 Popper
You're a strange orange blob that hates bubbles. Don't ask me, you're the one that hates bubbles. Anyways, one thing led to another and now you're stuck in a pixel art metal box coated with spikes, and bubbles - or powerups - are spawning every 5 seconds. Pop them. Your thirst for bubble blood is endless. You could even say that in the first age, in the first battle, when the shadows first lengthened, one stood. Burned by the embers of Armageddon, his soul blistered by the fires of fire bubbles and tainted beyond ascension, he chose the path of perpetual torment. In his ravenous hatred he found no peace; and with boiling blood he scoured the Bubble Plains seeking vengeance against the dark bubbles who had wronged him. He wore the crown of the Anti-Bubble Sentinels, and those that tasted the bite of his sword named him... the Bubble Slayer.

Downloadable builds are recommended. If your web build suddenly freezes, it's likely because you quit the game, which is not well shown in web builds.
Controls are on the main menu!
Attributions:
Bubble sprite from https://opengameart.org/content/powerup-bubble
Some sounds from https://freesound.org/ (Spike impact)
Some sounds from https://sfbgames.itch.io/chiptone
Pop sounds from my mouth
Jam Meta

Made for the Mini Game Jam #84 - Bubble. Limitation: you are your own ammo.
I made this in about 10 hours because I was itching to make something. The mini jams seemed like a perfect opportunity! This game isn't too good, especially graphically and it's almost silent, but I had fun, and I'm glad I actually made something. Hopefully sometime I can team up with some artists in future! I'm interested to see what better devs have done with the theme and limitation :)
Also, I would of loved to of added Linux builds but I work on a laptop and I literally don't have the disk space to install platforms other than Windows and WebGL.
Download
Click download now to get access to the following files:
Popper (Windows x64)
22 MB
Popper (Windows x32)
19 MB